2018 Annual Report

From our Executive Director
The times they are a-changin'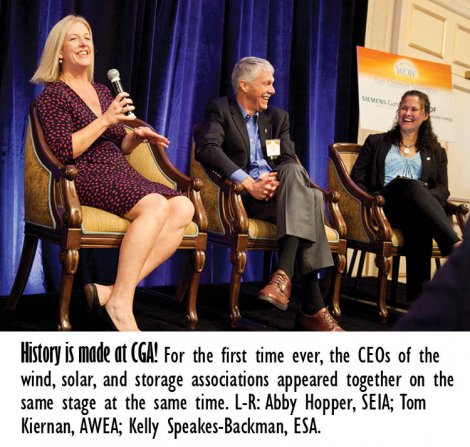 2018 was full of firsts. Our first-ever benefit breakfast featured CEOs from the national wind, solar and energy storage associations who all appeared together on the same stage for the first time ever. At the same time, we launched our entry into the storage space by taking over the Minnesota Energy Storage Alliance as a program, and we announced our new name and logo. It was a 'really big show!'
Our name-change was not taken lightly. We realized that our members were evolving. You were developing solar and energy storage projects in addition to wind. We grew right along with you, however, our name did not reflect our expanded service offerings. Although Wind on the Wires was a much-loved name and logo, and served us very well, it was time to move forward with a name that encapsulated our work and our vision, and would help us better connect with potential new members and funders. After much reflection, and a very deliberate process, we felt 'Clean Grid Alliance' best defined the work we do and the partnerships that we develop with our members and colleague organizations to achieve our purpose of 'delivering Midwest renewable energy.'
Despite all these changes, one thing remains constant – our commitment to our mission to advance renewable energy in the Midwest. We work very hard on policies to help create markets for renewables, transmission to deliver renewables, rules and law to ensure there is fair access for renewables, and advocacy to promote renewables. We also strive to connect the dots for our members working on carbon reduction policies about the role additional transmission plays in achieving our common goals.
We work on:
policies to help create markets for renewables, transmission to deliver renewables, rules and law to ensure there is fair access for renewables, and advocacy to promote renewables.
Implementation is the name of the game.
All our work on policy doesn't mean anything if we can't get steel in the ground. That's why our work doesn't stop there. We see policies through to the implementation stage at state commissions, and at MISO.
At the same time, siting challenges are continuing, and spreading to many previously supportive areas. Roadblocks at state legislatures and in regulatory proceedings for transmission projects have popped up. Despite the obstacles, we have been successful in opposing anti-wind bills in North Dakota, South Dakota, Minnesota, and Indiana. As our successful policy efforts to create markets for renewables, particularly in Illinois and Michigan, move into the implementation phase, we have been active in these processes. We have successfully advocated for MEP projects and MTEP 18 futures that accommodate more wind and solar, as well as advocating on behalf of the Cardinal-Hickory Creek transmission line, the last of the original MVP projects.
We have a dedicated and experienced Board of Directors who help set the strategic direction of this organization and a staff that keeps all the wheels in motion to ensure we are able to help you deliver our Midwest renewable energy.
Thank you for your ongoing support.




OUR WORK
State Policy
Stimulating market conditions that create a demand for renewables through policy initiatives at state legislatures.
Transmission
Ensuring there is adequate access to the MISO electric grid for renewables, and transmission projects are completed promptly.
Rules & Law
Engaging in regulatory and resource planning processes to support transmission and ensure renewables are included in the energy resource mix.
Public Education
Providing ongoing public education and outreach to achieve broad support and acceptance of renewables.
Organizational & fiscal sustainability
Attracting new members and ensuring robust participation from current members is a strategic priority. We continually work with our NGO and for-profit members to find effective approaches to our work and align strategies in our region. In addition, we seek the support of philanthropic organizations and individuals to balance our funding sources. Such grants help support our operational budget as well as specific programmatic initiatives identified by staff and our members. Our thanks to the McKnight Foundation, Turner Family Foundation and the Energy Foundation for their generous support.
BY THE NUMBERS

4 new members in 2018:

MAP Energy LLC
Scout Clean Energy
Wenck Consulting
IPS Solar

Raised $224,000 for state initiative work in Minnesota and North Dakota.
Raised $857,500 from private philanthropy to support our work.
Raised $92,075 from the "Wake-up With WOW" Benefit Breakfast
Our first-ever breakfast fundraiser featured CEOs from the national wind, solar and energy storage associations who all appeared together on the same stage for the first time ever. The event sold out with over 54% of the total revenue coming from non-member companies. We met the budgeted fundraising goal and expanded our reach to companies who support our members with products and services.


CGA received funding from The Wind Solar Alliance (WSA) for advocacy work on MISO market reforms. In 2019, CGA will be holding 10 in-state meetings with state regulators and staff to talk about the market reforms needed as the Midcontinent states implement the generation shift that is underway.
Statement of Activities
for the year ended December 31, 2018
Revenue
Amount
Percent


Foundations
$ 857,500
44.77%
Member Contributions
$1,010,706
52.76%
Fees for Service
$ 43,500
2.27%
Investment Income

$ 3,606

.18%
Total Revenue
$1,915,312
Expenses
Amount
Percent


Technical
$ 463,523
28.64%
Regulatory
$ 304,972
18.85%
Education & Outreach
$ 633,819
39.17%
Administration/Fundraising

$ 215,923

13.34%
Total Expenses
$1,618,237
Change in Net Assets
$ 297,075
LEADERSHIP