Blog

Renewables First
Michigan Maintains Strong Clean Power Sector
The United States is undergoing a major transition to a clean energy economy, and statewide leadership is paving the way. In 2020, Governor Whitmer announced an Executive Action on Climate, which included high-reaching goals for decarbonization by 2050. To meet these goals, the governor announced this year that by partnering with three Michigan utilities - DTE, Consumers Energy and the Lansing Board of Water and Light -- all state-owned facilities managed by the Michigan Department of Technology, Management, and Budget are required to be powered by 100 percent renewable energy by 2025.
Fortunately, despite a tough year, 40 percent of U.S. power generation was carbon-free in 2020. The pandemic had little to no impact on construction activity, allowing 2020 to see the highest number of renewable energy installations ever, and growth is still on the upswing. Renewables are currently providing one-fifth of the country's energy needs. In the Upper Midwest, Michigan's clean power sector is contributing $5 billion in capital investment into the state's economy.
With nearly 3,500 megawatts (MW) of wind, solar and storage online, Michigan is in the top 20 states for installed capacity. The state's clean power sector is currently keeping the lights on in 1.4 million homes. In 2020, 11 percent of Michigan's electricity came from renewables, with three-fifths of renewable generation coming from wind. Over $71 million in state, local and property taxes are paid every year, and an additional $35 million in annual land lease payments are being paid to rural landowners.
New legislation helps standardize taxable values for wind and solar farms
Recently, legislation was passed that would create a uniform, statewide taxable value for wind turbines to help address an ongoing problem facing counties hosting wind farms. Two bills were introduced that would tax turbines at 100 percent of their value for their first tax year, and their value will decrease by five percent each year for 15 years. After that, the rate would be constant at 30 percent of its original taxable value each year until the turbine is removed. This structure provides certainty to host communities about the amount of revenue they can expect from wind projects, making their budgeting and investment decisions easier. The tax commission voted to approve the 2022 valuation methodology. The State Tax Committee directed staff to prepare a form reflecting the methodology, which will be approved by the State Tax Commission in October.
The Michigan State Tax Commission also approved a valuation table that would create a uniform, statewide taxable value for utility-scale solar facilities. The table establishes tax rates for solar facilities installed prior to 2022. While this table will provide certainty to host communities about the amount of revenue they can expect from solar projects, it sets a very high rate of valuation for projects built within the last five years. This rate, ranging from 51 percent to 98 percent of the cost of the solar farm assets, is much higher than the rates used in Michigan's neighboring states.
Significant Solar Development on the Horizon
The state's solar sector is seeing steady growth. Although Michigan ranks 25th in the nation for its solar capacity, its 591 MW is enough to power over 93,000 homes. Yet, there's much more in store in the coming years. Michigan is slated to see over 2,000 MW of new solar over the next five years. Solar prices have dropped 90 percent since 2009, making it one of the cheapest sources of new generation available. The solar industry has already invested over $784 million in Michigan, and the industry employs over 4,500 people with good family-supporting jobs through its 217 solar companies, including 77 manufacturers, 83 installers and developers and 57 other related companies.
Michiganders also benefit from the great jobs offered by the renewable energy sector, which includes wind, solar and storage. New, well-paying jobs with benefits are emerging across the state. At the same time, local businesses benefit from the economic ripple effect that comes from renewable energy development. Renewable energy is the second largest clean energy employer in Michigan, with over 10,700 workers. Michigan's metro areas such as Detroit (50,229) and Grand Rapids (9,546) offer large numbers of clean energy jobs, but more than 22,500 jobs are located in rural areas that are seeing populations decrease and the median age increase. That almost 20 percent of the state's renewable energy workforce going to regions where they are needed most!
Clean energy gives Michigan good-paying jobs and economic development for rural communities. Now that's just smart!
Subscribe to Blog

Related Posts
Winterization and the Grid: Reliability 365
Madelyn Smerillo, Communications Associate - Siting
|
Jan. 25, 2022
Many of the Upper Midwest states are among the coldest in the […]
Read More »
Renewables and Property Rights
Madelyn Smerillo, Communications Associate - Siting
|
Dec. 16, 2021
The growth of renewable energy in the last decade has been […]
Read More »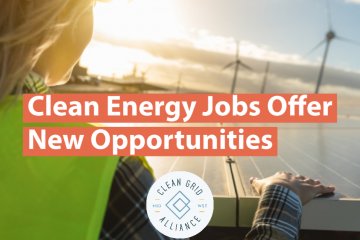 Clean Energy Jobs Offer New Opportunities
Holly Fritz, Communications/Policy Associate
|
Nov. 18, 2021
Clean energy jobs may have declined during COVID, but the future of the […]
Read More »