Clean Energy is Powering the U.S.
Holly Fritz,

Communications/Policy Associate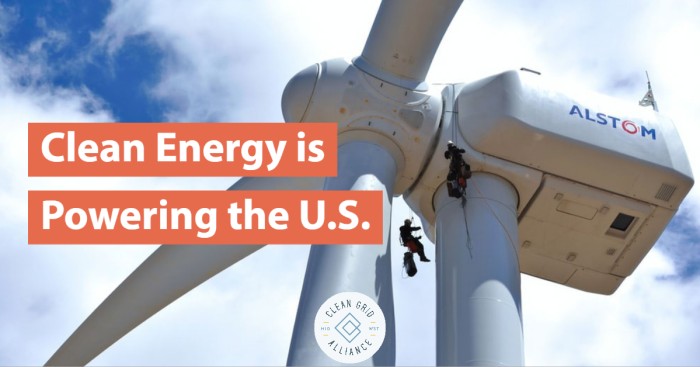 Holly Fritz,

Communications/Policy Associate
The United States made 2019 a major year for clean energy. The Business Council for Sustainable Energy and Bloomberg New Energy Finance's 2020 Factbook highlights the state of renewable energy in the last year as prices reach new lows and the quest for decarbonization continues. The U.S. has twice the capacity of renewable energy it had 10 years ago. In 2019, there was a 77 percent increase in new renewable generation, most of which came from utility-scale wind and solar projects. Energy storage is undergoing monumental changes. As these trends power the economy, we've already begun to see what will be another decade of significant change.
Wind power remains a top contender as a zero-carbon energy source. Prices have fallen 70 percent since 2009, and low installation and operation costs have been a big factor in getting projects online. Contract prices for turbines signed in 2019 dropped by about 10 percent from 2018 levels. As turbines get taller, capacity factors improve, which contributes to lower levelized costs for U.S. wind as well. As these levelized costs declined, prices for wind power purchase agreements (PPAs) have fallen, opening the door for more project development. The report disclosed $31.5 billion of wind projects were financed in 2019. Most new projects in 2019 were hosted in Texas, Iowa, Illinois and Kansas. New build was 16 percent higher than in 2018, making 2019 the biggest year for installs since 2012. These major developments nearly tripled wind capacity in the last ten years, reaching 100 gigawatts (GW) in 2019 and currently standing at 108 GW across the country.
Solar has become a rising star in the energy sector with record low prices and installation costs. Currently standing at a solid 75 GW, solar energy has grown 80 times larger than at the beginning of the decade. Solar has also been a huge economic asset. The average fixed-tilt solar project can currently be built for less than $1 per watt (W). About $15.6 billion financed solar projects in 2019. Strong financial support and low technology costs ensures more projects in the works to be brought online in the coming years, increasing sun-powered capacity.
Energy storage has been trying to get its feet off the ground for years, and 2019 proved to be a monumental year. Around 2.4 GW of solar and 870 megawatts (MW) of storage in combined solar+storage projects were championed by U.S. utilities. While declining costs are pointing towards the use of lithium-ion batteries, pumped hydropower storage still provides 93 percent of U.S. energy storage capacity. Large utilities and independent power producers dominate storage project ownership, including NextEra, AES and Invenergy.
Recent policy wins will change the game for energy storage in future years. The Federal Energy Regulatory Commission (FERC) approved the Order 841 compliance plans at the end of last year. This landmark ruling aims to remove barriers, jump-start more storage deployments and create new opportunities for energy storage to participate in the market. Minnesota also passed a law which requires utilities to consider storage in long-term planning.
Renewable energy is more than just an economic driver. It's powering American homes at an affordable price. Consumers continue to divulge small shares of their total spending to energy compared to historical levels, thanks to the rise of renewables, energy efficiency measures and technological changes. Total energy-related spending in 2019 decreased significantly from 2018 levels at just under 4 percent. That's a 22 percent decrease since 2009 (5.1 percent).
The report also stressed transmission upgrades were a necessity in the transition from fossil fuels to renewable energy sources. New transmission can maximize the value of low-cost, emissions-free wind energy. Companies have begun to recognize the need for transmission as a way to not only boost the amount of renewable energy power needed to meet America's energy needs, but also solve grid congestion that resources have been facing. From 2010 to 2018, investor-owned utilities doubled their rates by investing $170 billion ($18.9 billion per year) in transmission upgrades. From 2017 to 2019, the Midcontinent Independent Operating System (MISO) advocated for a number of transmission projects in Illinois, Iowa, Minnesota, North Dakota and South Dakota. Several projects in the Northwest and Southwest regions are currently under development with the intention of bringing more wind energy to California to meet the state's renewable energy goals. American Wind Energy Association (AWEA) estimates that transmission proposals across the U.S. could enable tens of thousands of megawatts of new wind capacity between 2017 and 2024.
Renewable energy continues to play an important role in policy decision-making. States legislators have taken matters into their own hands by setting renewable energy standards. In 2019, nine states altered their legislated clean energy goals. California, New York and Minnesota are among many states establishing 100 percent renewable energy goals for 2050. Utilities have also taken significant pledges over the last two years. In the Midwest, major utilities Xcel and MidAmerican have set some of the most ambitious goals, as well as making arrangements to retire their major coal plants. Recently, Michigan's Consumer Energy set the very first "net-zero" emissions goal.
The last ten years have shown significant growth in renewable energy's infancy. By 2019, clean energy has solidified its place in electricity generation by providing low-cost, clean, reliable energy for US consumers and businesses and pouring billions of dollars into our economy. In the wake of a new decade, clean energy is ensured to continue to benefit the US economy, American homes and our environment. The future is bright, and it's being powered by renewable energy.
This blog post originally appeared in Morning Consult.