South Dakota is Building a Clean Energy Future
Holly Fritz, Communications/Policy Associate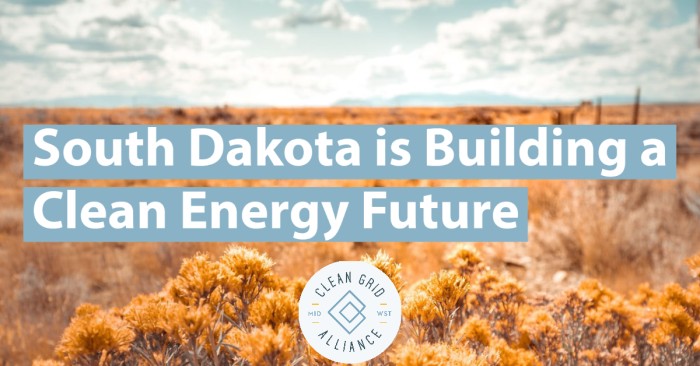 Holly Fritz, Communications/Policy Associate
From the prairies to the Black Hills, South Dakota is growing its clean energy economy in a big way. Thanks to the efforts of the renewable energy industry, landowners and surrounding communities, South Dakota has already received over $3 billion in cumulative wind project investment.
South Dakota gets about 24 percent of its in-state electricity production from wind power, ranking fifth in the country and powering more than 200,000 homes. With 1,742 megawatts (MW) online, the state ranks 18th in the nation for installed wind capacity. Another 1,343 MW are currently under construction and 302 MW are in advanced development. Up to $9 million in state and local taxes are paid by the wind industry every year, and another $9.8 million in annual land lease payments are being paid to rural landowners.
Although South Dakota's solar capacity is in its infancy, it is poised for growth. There are 291 MW of solar projected over the next five years. This is great news because solar prices have dropped 88 percent since 2009, making it one of the cheapest electricity sources available. The solar industry has already invested over $3 million in South Dakota, and even more importantly, the industry employs 613 people through its 17 solar companies, including three manufacturers, six installers and developers and eight other related companies.
America's energy sector is transitioning to a clean energy economy as states implement strategies to incorporate more renewables and set carbon-reduction goals. As more states embrace clean energy, ratepayers will benefit from its low-cost, and citizens can benefit from the great jobs that it offers. New job opportunities will emerge offering good, family-supporting jobs to people in urban and rural areas. According to Clean Jobs Midwest, more than 11,000 South Dakotans were employed in a clean energy job prior to COVID-19. These jobs grew 4.5 times faster than the state's overall employment in 2019. Renewable energy is the second largest clean energy employer in South Dakota, with 2,327 workers. Clean energy jobs can be found in all corners of the state, from cities like Sioux Falls to rural areas, which hold 43 percent of these jobs. The state's five manufacturing facilities provide direct wind jobs while making products for the wind industry. As an added bonus, businesses will benefit from the economic ripple effect that comes from renewables.
As the transition from fossil fuels to clean energy marches on, South Dakota will reap the benefits of a low-cost, reliable, and renewable source of electricity. Families are supported through the growing clean energy job market and farmers and ranchers can rely on a steady source of income. The growth of South Dakota's clean energy output also helps reduce carbon emissions and creates more economic opportunity. Renewable energy creates stability for Rural America – and that's just smart!