The growth of renewable energy in the last decade has been exponential, with solar development among the latest to join the party. Since 2010, the nine Upper Midwest states in the Midcontinent Independent System Operator (MISO) footprint have seen installed wind capacity increase by 210 percent. This year alone, these states have also added a combined 415 MW of solar to their overall clean power capacity. As more and more development has occurred, questions about land use, particularly around solar, are also driving a debate around property rights.
Let's take a look at some of the issues.
Stewards of the Land
Farmers earn their living from their land. Consequently, they are very good stewards of it. Renewable energy provides a variety of benefits to the landowner, the community and the environment as well.
"

Planting vegetative ground cover preserves topsoil and improves soil health over time, even in brownfield areas with polluted soils.

National Renewable Energy Laboratory
The growth of solar development across the American energy landscape provides opportunities for landowners to preserve -- and enhance -- their land. Many local governments with established ordinances on solar energy require that vegetative groundcover be planted underneath solar panels. According to the National Renewable Energy Laboratory, incorporating native plants and grasses on a solar farm's footprint preserves topsoil and improves soil health over time, even in "brownfield" areas with polluted soils. Converting some land used for farming to solar production also allows the soil to rest, which will improve its fertility if and when it is returned to agricultural purposes.
In addition, the use of ground-cover crops that attract bees and butterflies have been shown to help improve yields of nearby crops. Solar farming also reduces chemical run-off into nearby waterways from pesticides and fertilizers. Some developments are using solar farms for small grazing animals like sheep or goats, which reduces the need for mowing. As the land benefits of renewables continue to be revealed and studied, it is important that we let those who know the land the best decide how best to use it. Farmers and ranchers are already stewards of the land, so who better to make decisions about how land is used than the owners themselves?
Financial Stability and Crop Diversity
Solar and wind are cash crops that help farmers and landowners diversify their income portfolio and ensure the reliability of their livelihood. Unlike many agricultural crops in the Midwest, renewables can be harvested all year long. Plus, wind and solar are drought-proof, high-yield land outputs that can produce for decades at a time without expensive inputs like fertilizers, pesticides, and irrigation.
Subscribe to our newsletter for the latest on energy & our work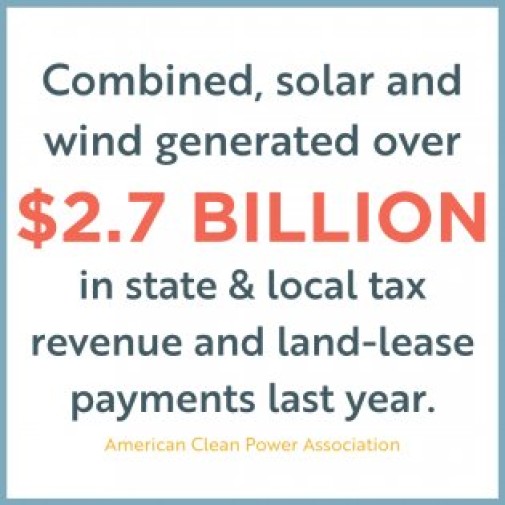 Solar and wind farms not only generate clean, reliable electricity, but they also stimulate the economy. According to the American Clean Power Association, Americans received $865 million from solar and $1.9 billion from wind in state and local tax payments and land-lease payments last year. As the industry grows, this source of revenue will increase, supporting local programs and infrastructure for decades to come.
Renewables also create good-paying jobs for community members, helping local economies thrive. Wind energy technicians and solar photovoltaic installers are among the top five fastest growing occupations in the United States, according to the U.S. Bureau of Labor Statistics. These jobs can also bring families together, drawing younger generations back to rural communities or family farms as opportunities and local amenities increase.
Allowing farmers and landowners to harvest renewables on their own property aligns with our core American value of liberty. Solar and wind can also unite us as communities come together in support of economic stimulation and job creation that come from such development.
Achieving Community Goals
Many counties and townships across the Midwest have set goals for renewable development in their communities. When individual farmers and landowners step up to meet them, inhibiting their ability to do so through restrictive ordinances or moratoria is counterproductive.
In Linn County, Iowa, for example, community members established a plan to support renewable energy development beginning in 2013. However, the county continues to review two large solar energy proposals, potentially voting to deny them. Doing so would not only revoke the right of individuals to make decisions about the land they own, but would work against the goals that the county has set for itself. When local governments establish support for clean energy development, they must allow the community to follow through.
Wind and solar development is another way to ensure rural communities stay rural. One of the greatest threats to farmland is urban sprawl, a type of development that irreversibly takes land out of agriculture. If it is the community's desire to keep the region rural, renewable energy development is a great way to meet this goal, while also providing jobs and economic development to support the community.
When we consider solar and wind as crops, it becomes clear that local governments should not pursue overly-restrictive policies on their development. Zoning ordinances do not limit the growth of specific crops; therefore, they should not inhibit the harvesting of the wind and sun.
Your Land; Your Choice
Farmers and landowners that lease their land for solar or wind developments are making a personal choice. Regardless of whether the decision is based on the desire to help meet the carbon reduction goals of a local community, to fulfill the renewable energy demands of utilities, corporate purchasers and their customers, or simply to diversify their personal income stream, a landowner has the right to make decisions about how their land is used.
Harvesting solar and wind is beneficial to our land, our economy, our values and our communities. That's why property decisions should be left in the hands of landowners: to ensure we keep rural America open to economic prosperity for decades to come.