MISO

Advocating for renewables at MISO
Clean Grid Alliance leverages its technical expertise at the Midcontinent Independent System Operator, Inc. (MISO) to expand the deployment and integration of cost-effective renewables on the grid and advocate for expanding market opportunities for renewables.
MISO is the regional transmission "grid" operator whose purpose is to provide an independent platform for transparent regional energy markets. MISO started operating in 2001. Its platform encourages wholesale electric competition in the region and cultivates greater system reliability as well as coordinated, value-based regional planning.
Their mission is to pursue operational excellence and to drive value creation through transparent reliability/market operations, planning, and innovation.
CGA's role at MISO
Clean Grid Alliance represents renewables through the Environmental/Other sector and works with utilities, MISO, and other stakeholders on comprehensive, integrated, forward-looking transmission planning. We also work with stakeholders to understand the operating impacts of integrating wind into the electrical power system.
Our membership at MISO entitles us to a seat at the table on two highly influential committees at MISO – the Advisory Committee and the Planning Advisory Committee.
We are also plugged-in to key committees and work groups at MISO to leverage the best interests of the renewables industry.
CGA's technical work involves:
Participating in transmission planning studies
Discussions on cost allocation for new transmission lines
Developing market rules to integrate wind power into the electric transmission system, and
Analyzing integrated system operations with higher amounts of renewable energy.
CGA's Involvement in MISO Committees and Working Groups
This chart reflects the committees and working groups in which CGA actively participates. Involvement in these committees enables us to express the needs and best interests of the wind industry, other renewables and emerging technologies that support renewables; and effectively exert the influence of the members we represent.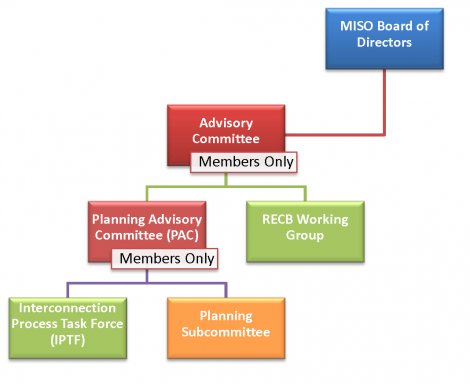 Members of the Advisory Committee offer advice to the Board of Directors on policy matters.
The Planning Advisory Committee provides advice to MISO staff on policy matters related to the process, adequacy, integrity, and fairness of the MISO-wide transmission expansion plan and cost allocation.
The Regional Expansion Criteria and Benefits Working Group discusses existing or proposed

cost allocation

criteria and policies for regional and interregional transmission projects. Clean Grid Alliance works to develop new cost allocation criteria to help meet upcoming policy changes and to develop equitable cost allocation methodologies that further the growth of renewable energy resources.
The Interconnection Process Task Force develops or revises procedures for generator interconnection. Clean Grid Alliance works to reduce study time and increase certainty.
CGA monitors the following subcommittees and working groups at MISO for pertinent issues that affect renewables.