MVPs




Supporting the 'farm-to-market' road for renewables
Midcontinent Independent Transmission System Operator, Inc. (MISO) developed a series of high-voltage regional transmission lines to improve reliability, relieve congestion, and achieve state public policy requirements, such as Renewable Portfolio Standards. Clean Grid Alliance advocates for broad cost allocation for transmission projects to keep them affordable for everyone and educates the general public about the need for transmission to ensure low-cost renewables can reach the electric market.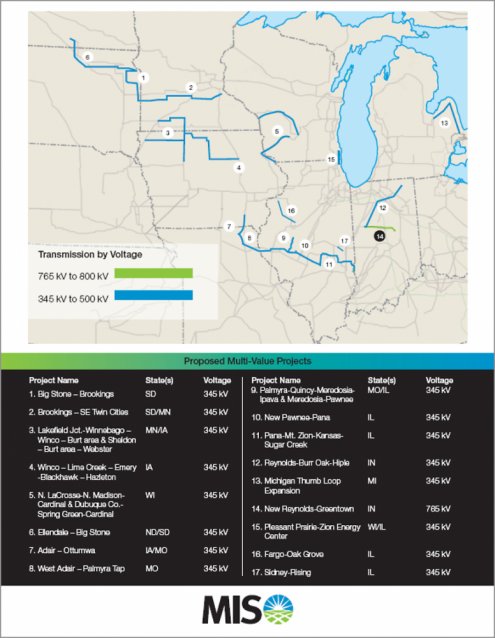 In 2011, MISO approved 17 high-voltage transmission lines -- known as Multi Value Projects -- that improved the robustness and flexibility of the electric grid for nine Midwestern states. The MVPs span the MISO footprint from North Dakota to Indiana and Michigan. These lines are an approximately $10 billion dollar (in 2015 dollars) investment in the U.S. electricity market that is forecasted to provide approximately $19.5 billion (in 2015 dollars) in electricity cost savings.
These transmission lines were developed in collaboration with stakeholders over a handful of years and in anticipation of an increasing demand for wind energy. They provide cost savings to ratepayers by relieving congestion and reducing the cost to deliver electricity to end use customers. The lines will also improve system reliability and help states cost-effectively achieve state public policy requirements, such as Renewable Portfolio Standards. They have the capability of delivering 25,000-29,000 megawatts of renewable energy around the Midwest.
The 17 MVPs are in various stages of development. Some have been energized, most are under construction and a few are still seeking state regulatory approval of their route. The lines are a crucial step in the development of renewable energy around the region.