Republicans, Corporate Buyers Can Enhance Opportunities for Wind Development, Panel Says
ST. PAUL, MINN. (March 23, 2015) – Prominent energy and climate change leaders were in Minnesota last Thursday night for an exciting discussion of the future of the clean energy economy. Hosted by advocacy group Wind on the Wires, the event was entitled, "Energizing the Future: Powerful Voices and Pioneering Leaders" and was an important gathering for the renewable energy sector. Throughout the evening, energy industry thought leaders discussed the future of national, state and regional energy policy, as well as new and emerging opportunities for market development in the wind industry.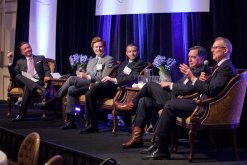 The headline panelists were: Bob Inglis (R-SC), Executive Director of Energy and Enterprise Institute; Jon Wellinghoff, Former Chairman of the Federal Energy Regulatory Commission (FERC); Rob Threlkeld, Global Manager of Renewable Energy for General Motors; and Duncan McIntyre, Managing Director of Market Inventory at Altenex LLC. The panel discussion was moderated by Paul Douglas, Meteorologist, Entrepreneur, and Founder of Media Logic Group. In addition, Tom Kiernan, CEO of the American Wind Energy Association (AWEA) gave special remarks about the newly released Department of Energy Wind Vision report. The report shows that wind energy can supply 10 percent of the nation's electricity demand by 2020; double to 20 percent by 2030 and become a leading source of electricity by 2050.
"Having these outstanding thought-leaders in Minnesota afforded a great opportunity to discuss the future for clean energy here and across America to do big-picture thinking about the possibilities for developing more renewables, and what may be needed to get there," said Wind on the Wires Executive Director Beth Soholt.
Panelists discussed a variety of key issues in the renewable energy sector, including ways to change the debate about clean energy and key business and regulatory trends.
"As a conservative, evangelical Republican advocating for climate change, I'm as rare as an albino unicorn," joked moderator Paul Douglas. Panelist Bob Inglis offered similar sentiment about the Republican Party, saying that "My party needs to stop being the Grumpy Old Party and start being the Great Opportunity Party."
The growing trend in corporate renewable energy purchasing was also a key topic. "Corporations are driving the scalability of renewables," said Rob Threlkeld, Global Director of Renewable Energy at General Motors, a company that has signed power supply contracts with wind farms and other renewables sources.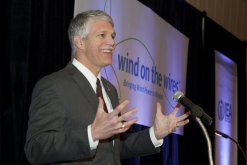 AWEA CEO Tom Kiernan offered a broader view for the future of the wind industry, saying that the Department of Energy's recent WindVision report proves that the industry has outperformed since its first major study of the sector in 2008.
"We can do this. The 20% by 2030 goal is not only doable, but we're ahead of schedule in terms of both growth and lowering costs," Kiernan said. "Achieving Wind Vision will save consumers money and create jobs. It starts with getting common-sense policies in place, so we can double U.S. wind energy in the next five years."
# # #
About Wind on the Wires
Wind on the Wires is a 501(c)(3) nonprofit organization based in St. Paul, Minn., which is comprised of wind developers, environmental organizations, tribal representatives, public interest groups, clean energy advocates, farm groups and businesses providing goods and services to the wind industry. Our mission is to overcome the barriers to bringing wind energy to market by addressing technical and regulatory issues, as well as through education and public outreach.