Wind and Solar Projects Add $16 Million in Production Tax Revenue to Rural Minnesota Counties for 2020
Minnesota has received more than $133 Million since 2004;
Solar Contributing 11.5% in 2020
SAINT PAUL, MINN. (May 13, 2021) – The Minnesota Department of Revenue Property Tax Division recently updated its report on the amount of wind and solar production tax revenue paid to Minnesota counties that host renewable energy developments. This year, 54 counties, representing 62 percent of the state, will receive payments from wind and solar projects totaling $16,031,859 in production tax revenue, with $14,185,507 coming from wind projects. Solar production taxes totaled $1,846,352 for 2020, representing 11.5 percent of all production tax revenue in the state.
Since 2004, the combined total of wind production tax payments is $133,941,615, with and additional $5.5 million coming from solar projects over the past five years. These taxes are paid to the state, which then funnels them back to the counties that host the projects. Eleven counties will receive tax payments from both wind and solar projects sited within their county.
Lincoln County now ranks first in the state as the county that will receive the largest amount of revenue coming from wind, surpassing Mower County. This year, Lincoln County will receive over $2.5 million, compared to $1.8 million in 2020, a 37 percent increase. Mower County ranks second in the state with $2.097 million in wind production tax revenue. Jackson County rounds out the top three with $1.8 million.
"The growth of utility-scale solar in Minnesota is clearly revealed in the dramatic increase in the production tax payments being distributed, and the number of counties that are hosting solar projects," said Clean Grid Alliance Executive Director Beth Soholt. Production tax payments to counties hosting solar projects has increased 31 percent since 2019, and 139 percent since 2018. Minnesota now has 38 counties that have solar installments, with Chisago County hosting the largest development in the state. This year, Chisago County will receive $351,557 from production tax payments. "These projects translate into real dollars and make a real positive impact on small communities that might otherwise struggle to pay for investments into their communities without overtaxing their residents. More opportunities for communities to benefit from the growth of solar energy is on the way." There are 2,836 megawatts of solar being planned in Minnesota; and Xcel Energy recently announced a proposal to build a 460 megawatt solar project in Becker, which would make it the largest solar project in the state.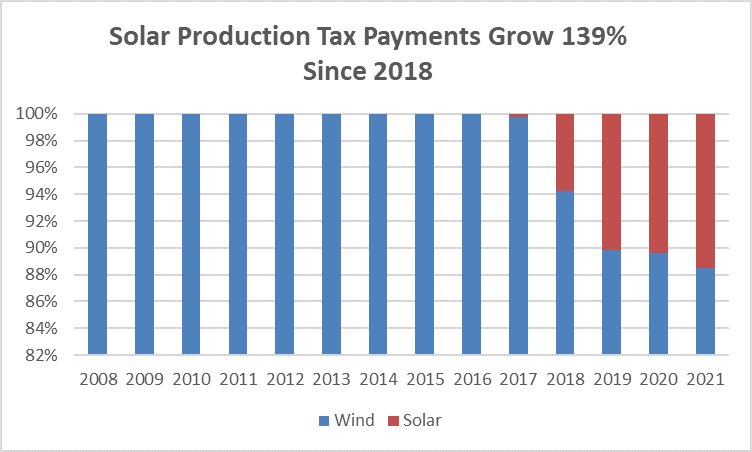 According to the American Clean Power Association, Minnesota ranks eighth in the nation for its 5,363 megawatts of operating wind, solar and energy storage capacity. Wind, solar and energy storage plants provide 21 percent of all electricity produced in the state, and contributed $10 billion in capital investment. Minnesota landowners also received $32.9 million in land lease payments in 2020, which helps drive economic development.
Nationally, clean power projects provided lease payments to landowners of $1.1 billion in 2020; $1.5 billion in property, state, and local taxes to communities; and contributed $323 billion in capital investments.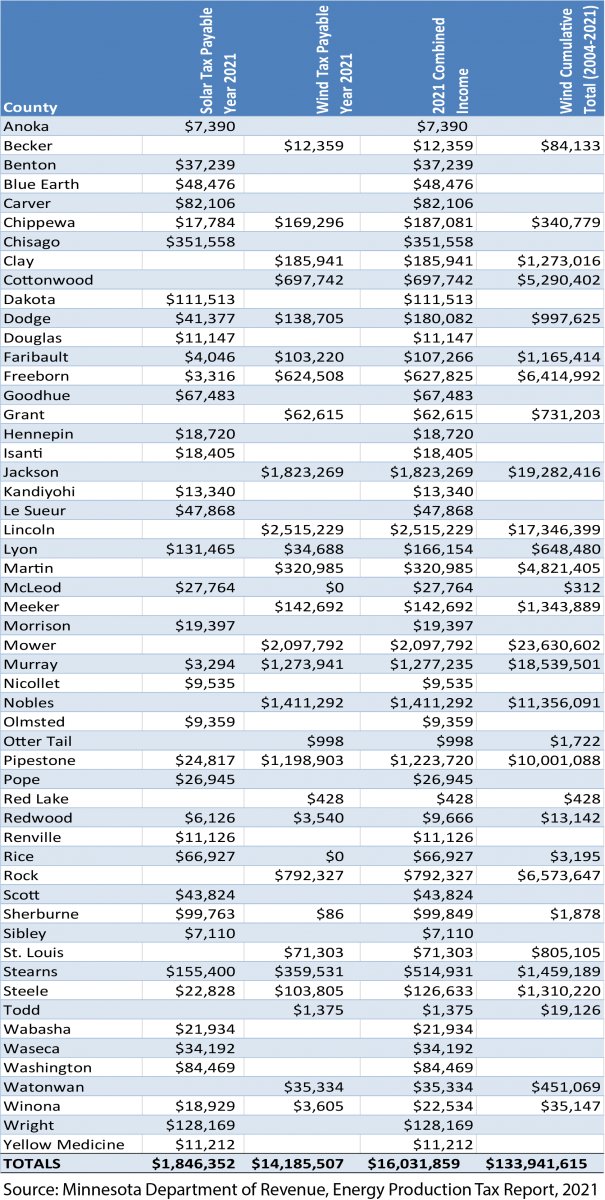 # # #
Clean Grid Alliance (CGA) is a 501(c)(3) nonprofit organization based in St. Paul, Minn., whose mission is to advance renewable energy in the Midwest. Launched in 2001, CGA has been an active stakeholder in the MISO process at the state and regional levels and a leading organization working on transforming state energy policy. CGA's membership includes industry representatives working in wind, solar and storage as well as environmental nonprofit organizations, public interest groups, clean energy advocates, farm groups, and businesses providing goods and services to the renewable energy industry who come together to reduce carbon and deliver a renewable energy future. Learn more at cleangridalliance.org.