Clean Grid Alliance Welcomes Jeff Danielson as New Vice President of Advocacy
ST. PAUL, MINN. (May 9, 2022) – Clean Grid Alliance is pleased to announce today that Jeff Danielson has joined the CGA staff as its new Vice President of Advocacy. Jeff comes to CGA from the American Clean Power Association (ACPA) where he served as Director, Central Region State Affairs since 2019.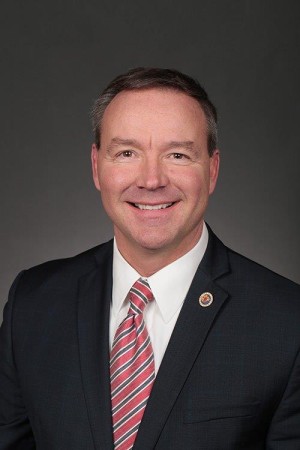 "Bringing Jeff into our already great CGA team is so exciting. Adding more capacity to help us tackle the multiple challenges that lie ahead for the renewable energy sector is just what we need," said CGA Executive Director Beth Soholt. "Jeff brings strategic relationships that will strengthen CGA's work and capabilities on behalf of our members. As we wrap-up our year-long 20th anniversary celebration, I am looking forward to working with him to help us envision – and achieve – our strategic direction for the next 20 years."
In this new role, Jeff will be responsible for overseeing CGA's state policy work by working closely with Regional Policy Managers, members and others to address renewable energy policy in the region. He will set legislative and regulatory priorities, develop a comprehensive long-term strategy for public policy, as well as help develop CGA's overall strategic direction. In addition, Jeff will assist in developing and growing the organization to meet current and future needs across the footprint. He will also participate in fundraising and relationship building efforts.
"I am thrilled to be joining CGA in this new role," said Danielson. "I'm looking forward to working alongside the policy team and helping Beth set the course for the future of this great organization."
Previously, Jeff was a four-term Iowa State Senator and past President Pro Tempore, a retired career professional firefighter and a Navy veteran. Prior to serving in the Senate, Jeff was a gubernatorial appointee to the Iowa Department of Transportation Commission and a mayoral appointee to the Waterloo Planning & Zoning Commission. He is a member of the American Council of Young Political Leaders, No Labels and alumni of the NewDEAL Leaders.
Jeff earned his Master of Public Policy (MPP) and BA in Public Administration (summa cum laude) from the University of Northern Iowa, where he also taught as an adjunct professor in the policy program, along with being a proud community college graduate from Hawkeye Community College in Waterloo, Iowa.
"We have worked closely with Jeff while he worked for the American Clean Power Association, and we are excited to bring his experience to bear on CGA priorities," said Soholt.
# # #
Clean Grid Alliance (CGA) is a 501(c)(3) nonprofit organization based in St. Paul, Minn., whose mission is to advance renewable energy in the Midwest. Launched in 2001, CGA has been an active stakeholder in the MISO process at the state and regional levels and a leading organization working on transforming state energy policy. CGA's membership includes industry representatives working in wind, solar and storage as well as environmental nonprofit organizations, public interest groups, clean energy advocates, farm groups, and businesses providing goods and services to the renewable energy industry who come together to reduce carbon and deliver a renewable energy future.