Illinois ranks 3rd in the Nation for its 2,247 MW of Wind Capacity in the Development Pipeline
FOR IMMEDIATE RELEASE
ST. PAUL, MINN. (August 16, 2022) – This August 15-19 is American Clean Power Week, a nationwide celebration of clean energy and the many ways that homegrown, affordable and reliable clean energy is building a better future for the nation. As clean energy powers homes and businesses, creates jobs, invests in rural communities, and reduces costs for consumers, a clean energy economy is being built.
According to the American Clean Power Association (ACPA) second quarter 2022 report, there is more than 211 gigawatts of clean power operating across the country, which includes wind, solar and energy storage. That's enough to power 58 million homes.
Clean Power Delivers Jobs and Economic Development for Illinois
In the second quarter, Illinois saw 2,247 MW of wind capacity in the pipeline. Currently, Illinois ranks 6th in the nation for its 7,874 MW of operating wind, solar and storage capacity. Combined, they provide 12.1% percent of all electricity produced in Illinois. The clean power industry has created 15,700 good-paying jobs, and currently powers 2.9 million homes across the state.
"The clean energy industry is not only providing affordable, reliable power where we live and work, it is also powering good-paying American jobs across all 50 states and driving investment into local communities," said Clean Grid Alliance Vice President of Advocacy Jeff Danielson. Wind, solar and storage projects have invested $15 billion into the economy in Illinois. In 2022, another $52.9 million in land-lease payments and $63 million in property, state and local taxes has been paid by clean power projects. Danielson added, "We are driving the transition to a clean energy economy by delivering our Midwest renewable energy to consumers. Supporting clean energy means supporting the prosperity of Illinois' communities and economy."
Solar development leads nationwide
According to the U.S. Energy Information Administration, solar will account for nearly half of new generating capacity in the United States in 2022. As of 2021, more than 255,000 Americans work in the solar industry, and according to the U.S. Bureau of Labor Statistics, solar photovoltaic (PV) installer is the fifth fastest-growing profession in America.
Illinois saw 73 MW of solar capacity installed in the second quarter, the most of any of the nine northern states in the Midcontinent Independent System Operator (MISO) footprint. According to the Solar Energy Industries Association over 3,712 MW are expected to be added over the next 5 years. The industry has invested $2,478.22 million in Illinois, including $1,157.35 million in 2021.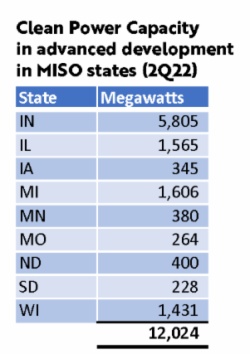 On a regional level, the nine northern states in the Midcontinent Independent System Operator (MISO) footprint have 12,024 MW of clean power capacity in advanced stages of development; 1,565 MW of that is in Illinois alone. The Midwest makes up more than 13% of the 88,233 MW in the nation's clean power pipeline that are in the advanced development stage.
The Prairie State also ranked first in the MISO North states for its 2,239 MW of clean power capacity under construction.
"The renewable energy industry is one of the fastest-growing industries, hiring and employing thousands of Americans nationwide, while helping secure our future energy independence and investing in American businesses to boot," said Clean Grid Alliance Executive Director Beth Soholt.
Wind, solar and energy storage provide jobs for nearly 443,000 people nationwide and have invested $145 billion into the U.S. economy in 2021.
# # #
EDITOR'S NOTE: CGA has staff members available for interviews about the status of renewable energy development and policy matters in Illinois. Please contact Kelley Welf, 651-644-3400, or via email at kwelf@cleangridalliance.org to schedule an interview.
Clean Grid Alliance (CGA) is a 501(c)(3) nonprofit organization based in St. Paul, Minn., whose mission is to advance renewable energy in the Midwest. Launched in 2001, CGA has been active in the MISO process at the state and regional levels and is a leading organization working on transforming state energy policy. CGA's members include wind, solar and storage developers, environmental nonprofit organizations, public interest groups, clean energy advocates, farm groups, and businesses providing goods and services to the renewable energy industry. Learn more at cleangridalliance.org.