Beth Soholt Named to Twin Cities Business List of "100 People to Know for 2023"
MINNEAPOLIS, MINN. (Dec. 8, 2022) — Clean Grid Alliance (CGA) is pleased to announce that CGA Executive Director Beth Soholt has been named one of Twin Cities Business's 100 People to Know for 2023.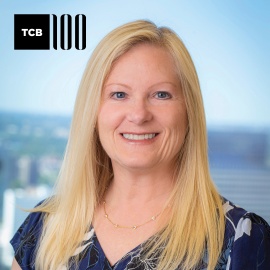 Every year, the editors of Twin Cities Business make a list of the people in and around Minnesota business likely to make news and drive change in the year ahead. The TCB 100 list for 2023 includes CEOs, founders, philanthropists, government officials, and innovators from across the state in many industries.
"The Board of Directors and staff of Clean Grid Alliance are enormously proud of Beth. This recognition is well deserved. The fact that it comes on the heels of CGA's 20th anniversary celebration, where Beth's leadership contributed to the significant growth of renewable energy development in the Midwest, makes it all the more meaningful," said Adam Sokolski, CGA Chairman of the Board, and Director of Regulatory and Legislative affairs at EDF Renewables.
"I am blown away and beyond honored to be included in Twin Cities Business Magazine's "People to get to Know," said Beth Soholt. "The honor comes at a time when Clean Grid Alliance's work is needed more than ever to quickly and efficiently transition our electric grid to accommodate what states, utilities, businesses and the general public want to do – electrify everything! I have a fantastic team and we look forward to additional success in 2023 and beyond."
During her 20 years leading Clean Grid Alliance, renewable energy on the electric grid grew from just 700 megawatts (MW) of wind energy to more than 28,000 MW of renewables today, and represents more than $50 billion in economic development in the Midwest.
The names of the TCB 100 were revealed at the People of the Year celebration on Thursday evening, Dec. 8, at the Four Seasons Hotel in Minneapolis.
The TCB 100 list is featured in the December 2022/January 2023 issue of Twin Cities Business, which will come out after the Dec. 8 event. The list will also be released online at tcbmag.com following the event, along with a reveal video featuring candid messages about leadership and plans for the year ahead from those on the list.
###

Clean Grid Alliance (CGA) is a 501(c)(3) nonprofit organization based in St. Paul, Minn., whose mission is to advance renewable energy in the Midwest. Launched in 2001, CGA has been an active stakeholder in the MISO process at the state and regional levels and a leading organization working on transforming state energy policy. CGA's membership includes industry representatives working in wind, solar and storage as well as environmental nonprofit organizations, public interest groups, clean energy advocates, farm groups, and businesses providing goods and services to the renewable energy industry who come together to reduce carbon and deliver a renewable energy future. Learn more at cleangridalliance.org.