Staff & Board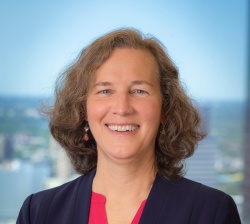 Natalie McIntire
Technical/Policy Consultant
608-632-1942
Natalie McIntire is an independent consultant working on high voltage transmission policy for renewable energy. Ms. McIntire currently acts as a consultant to the American Wind Energy Association and Clean Grid Alliance. Most recently she has been focused on interconnection queue reform, cost allocation, and Order 1000 reforms.
Prior to this, Natalie worked as a Senior Policy Associate for the Renewable Northwest Project in Portland, OR. In that position, she worked on transmission and green power policy in the Northwest, acted as a member of the Green-e Board, and was an appointed member of the Oregon Public Utilities Commission Portfolio Options Committee.
Natalie has a B.S. degree in Mechanical Engineering from Rensselaer Polytechnic Institute, a M.A. degree in the History of Science and Technology from the University of Minnesota, and a graduate certificate in Applied Energy Economics and Policy from the Portland State University, Oregon.