Staff & Board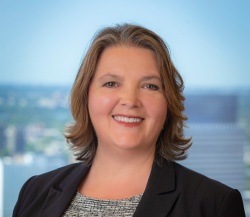 Kelley Welf
Communications Director
651-644-3400
Kelley Welf is the Communications Director for Clean Grid Alliance. She is responsible for developing strategic communications activities that align with the goals and priorities of the organization. Her responsibilities include: overseeing internal (member) and external communications, the website, facilitating media requests and interviews, developing public education materials, directing special events, and all other communications initiatives that further the organization's mission.
Previously, Kelley was the Director of Communications at the Lindbergh Foundation, where she was responsible for marketing, public relations/media and communications activities. While there, she wrote about technically complex/environmentally oriented grant projects, managed the foundation's website, developed an annual communications plan, wrote the e-newsletter, created marketing collateral, employed social media, worked with radio, TV and the press, and directed all aspects of the foundation's annual gala and other special events. She lives in Andover (a Twin Cities suburb) and hosted "Andover Update" on QCTV.
Kelley holds a Bachelor of Arts degree in Communications from Augsburg College in Minneapolis.