Staff & Board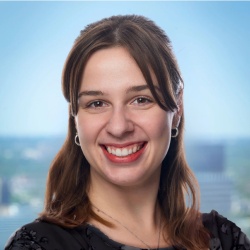 Madelyn Smerillo
Senior Policy Associate
Madelyn Smerillo is a Senior Policy Associate with CGA, working as the staff contact for Minnesota. She also handles research, multi-media, and external communications for the Advocacy Team, and is responsible for assisting Regional Policy Director, Peder Mewis, and Vice President of Advocacy, Jeff Danielson, on a variety of legislative and regulatory projects.
Madelyn has a background in writing and research, including journalism. She has gained ample experience applying these skills to the clean energy sector with CGA, where she has developed accessible resources and written blogs, editorials and articles on renewables in the Midwest. She also hosts and produces CGA's Podcast, GridCourse.
Madelyn is a graduate of Gustavus Adolphus College in St. Peter, Minnesota, where she obtained her Bachelor's degree in Political Science and Sociology/Anthroplology.