Indiana Is Winning with Clean Energy
Isak Kvam,

Communications / Policy Associate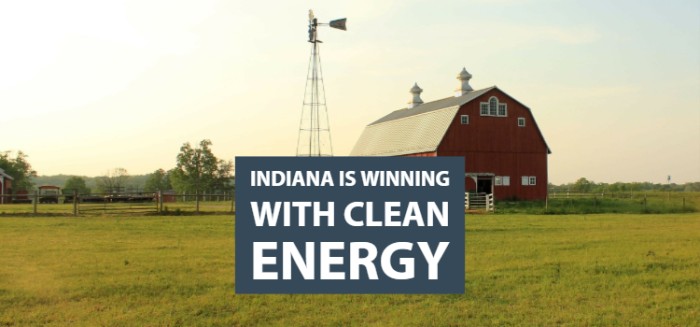 Isak Kvam,

Communications / Policy Associate
Indiana has a lot to be proud of in regards to clean energy. With the second-most clean energy jobs in the Midwest, Hoosiers can be proud of the wind and solar energy being built in the state. Clean energy isn't just providing low-cost electricity for the state — it's investing in the economy with family-supporting jobs and delivering sizable environmental benefits year-round.
Indiana is currently 12th in the nation for installed wind capacity with over 2,300 MW of wind energy — enough to power 538,200 homes with clean, low-cost wind power. It also has 15 active manufacturing facilities that help make products for the wind industry. That's good for the economy, because Indiana's wind industry employs over 2,000 people with family-supporting careers. Wind has also created $4.9 billion in capital investments for the state, as well as $14 million in annual state and local tax payments and over $5 million in annual land lease payments for rural landowners.
There are currently 130 Megawatts (MW) of wind power under construction and another 1,002 MW in advanced development. Not only is that good for the economy - but it's good for the environment, too. Generating wind power creates no emissions and uses virtually no water. In 2018 alone, Indiana wind power helped to save 2.4 billion gallons of water and avoided 4.3 million metric tons of CO2 — the equivalent of taking 922,000 cars off the road.
While Indiana only ranks 28th in the nation for installed solar energy with 331 MW, it is projected to add 901 MW of solar over the next five years. The cost of solar has dropped 88% since 2009 making it one of the lower-cost sources of electricity generation in the nation. Indiana currently supplies 0.43% of its electricity with solar, enough to power 39,486 homes.
There's plenty of room for solar to grow in Indiana — but it's already delivering economic benefits to the state. Over 3,100 folks are employed in Indiana's solar industry. There are currently 102 solar companies in Indiana, including 27 manufacturers, 44 installers & developers, and 31 other companies related to the industry. It's invested over $548.16 million in the state — and those benefits will only increase as more solar is developed.
Indiana is also home to the emerging energy storage industry, which will be an integral piece of the clean energy puzzle. Indianapolis Power and Light has a 20 MW energy storage array — the largest in the Midwest's electric grid — which stores and feeds energy onto the grid on a 24/7 basis. Energy storage not only makes wind and solar more economic and efficient on the grid – but it also helps to make the electric grid itself more reliable, resilient, and efficient.
Subscribe to our newsletter for the latest on energy & our work
As America's energy sector transitions to a clean energy economy, states across the nation are preparing for a future with huge growth in clean jobs. According to the 2019 Clean Jobs Midwest Report, Indiana is home to 86,900 clean energy jobs, the second most in the Midwest. Nearly two-thirds of those jobs are in energy efficiency, followed by advanced transportation, renewable energy generation, advanced grid, and clean fuels. In total, clean energy accounts for over 2 percent of the state's labor force, and they're growing quickly. Nearly 3,900 clean energy jobs were added in 2018 alone.
The future of clean energy is bright in Indiana. In fact, one of the largest electric utilities in the state recently announced it will speed up the retirement of its coal power plants to switch to lower-cost renewable energy, saving more than $4 billion for its ratepayers over the next decades. Northern Indiana Public Service Company, or NIPSCO, currently has 2,094 MW of coal generators, and it plans to retire a majority of them by 2023 and the remainder by 2028. They plan to replace their coal generation with lower-cost renewable energy resources such as wind, solar, and battery storage technology. NIPSCO will reduce their carbon emissions by more than 90 percent, invest in least-cost sources of electricity, and create wind and solar jobs — all thanks to low-cost clean energy.