2022 was a year of record installations and investment in clean energy and the U.S. is celebrating clean energy victories that will power the renewable energy transition for years to come. Clean energy investment in the U.S. has reached more than $434 billion. That's great because capital investment in new renewable energy projects stimulates the economy, creates jobs, and increases the rate at which the clean energy transition occurs. United States businesses and corporations are playing a huge role in the transition to clean energy.
Corporate Clean Energy Capacity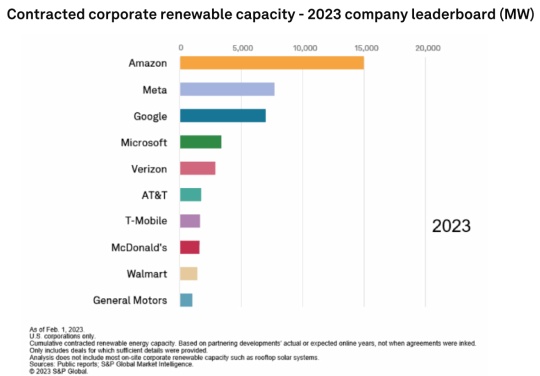 Renewable energy is being added to the U.S. electric grid at a rapid speed and corporations are joining utilities in advancing this development. In 2022, the U.S. added 32 gigawatts (GW)of new renewable energy generating capacity to the grid and renewable energy capacity contracted by U.S. corporations soared by 45%. As of February 2023, 10 U.S. corporations contracted more than 52 GW of clean energy capacity. Amazon is the clear leader. In 2022 they secured an additional 8 GW of renewable energy capacity for a total of 20 GW. Amazon has signed deals in 16 states and their contracted capacity alone accounts for about 25% of total U.S. corporate capacity.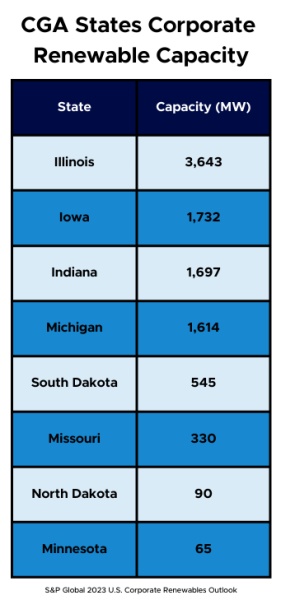 Corporate purchasers are now involved in 540 renewable energy developments including 303 solar, 224 wind, and 13 battery storage projects across 49 states, Washington D.C. and Puerto Rico.
Texas holds the most corporate capacity by far at more than 20,373 MW, with Ohio (3,997 MW), Illinois (3,643 MW), Oklahoma (3,543 MW), and Virgina (3,330 MW) rounding out the top five states. Currently, eight out of the nine CGA states are home to corporate renewable energy capacity, with Wisconsin being the only exception.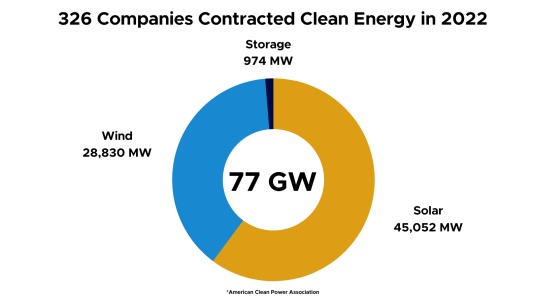 Corporate Power Procurement
Subscribe to our newsletter for the latest on energy & our work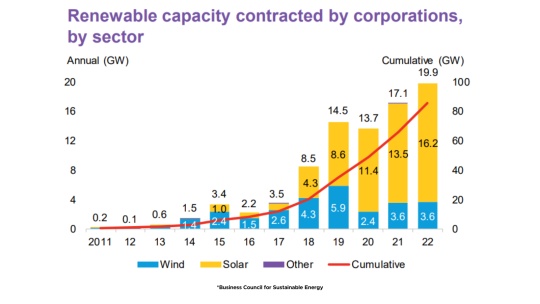 In the past decade, average contracted clean energy capacity has risen by 295%. The influx of contracted clean energy capacity comes largely from Corporate Power Purchase Agreements, or PPAs. According to the Business Council for Sustainable Energy (BCSE), companies announced 112 individual PPAs in 2022, averaging 178 MW each.
Corporate PPAs aren't just about lowering energy costs for the company. In fact, clean energy projects and PPAs can also have positive impacts on communities. For example, ACP reports that Microsoft's solar PPA with Volt Energy includes investment in environmental justice-focused community impact funding initiatives. We expect to see more PPAs in the coming years as companies work to keep up with their rising electricity consumption, reduce costs, and meet their own sustainability goals.
Investment in Transmission is Needed
To ensure a smooth transition to a clean energy future, upgrades and replacements of aging power lines, resiliency planning, congestion reduction, and the integration of renewable resources are needed. In 2021, the Edison Electric Institute (EEI) estimated that investor-owned utilities and independent transmission developers invested a record $27.1 billion in transmission. While the 2022 numbers have not yet been published, EEI estimates that transmission investment likely reached $31.7 billion, a 17% increase from 2021. More transmission is needed, and more is coming. Last year, MISO got the ball rolling when it approved the Tranche 1 Long-Range Transmission plan, the largest portfolio of transmission lines ever approved in the nation. These 18 transmission lines will support 53 GW of renewable energy and are expected to deliver $37 billion in financial benefits over 20 years.
According to BCSE, the U.S. was the second largest energy transition investor in 2022, behind China, with $141 billion in investment, an 11% increase over 2021. Renewables accounted for 35% of that investment and met 22.7% of total U.S. electricity demand in 2022.
According to ACP, more than $40 billion of investments were made in clean energy in the fourth quarter of 2022. This is equal to the total investment for all clean energy projects installed in 2021. Clean energy investment stimulates the economy and these fourth quarter investments contributed to the announcement of 20 new clean energy manufacturing facilities that would create nearly 7,000 new American jobs. Three of these manufacturing facilities are in the CGA footprint. Specifically, the expansion of the LG Chem battery storage facility in Michigan, the Heliene solar facility in Minnesota is doubling its capacity, and TPI Composites in Iowa is reopening its wind facility.
A Clean Energy Economy Grows Jobs and Economic Development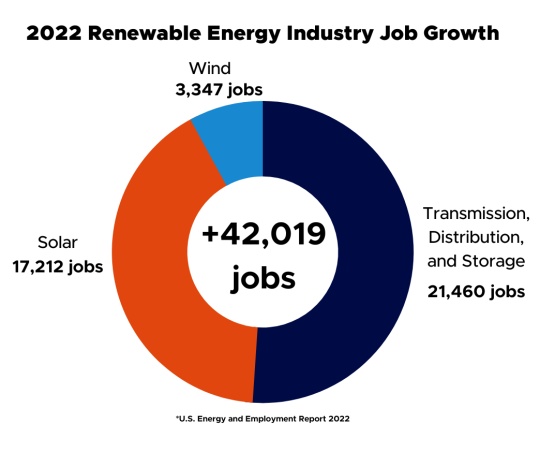 Jobs and taxes are central to the American economy and clean energy projects provide significant benefits in both categories. According to the 2022 U.S. Energy and Employment report, the two largest employers in renewable energy technologies, solar and wind, both increased the size of their industries and number of Americans employed. The solar industry grew by 5.4% and created 17,212 new jobs, reaching a total of 333,887 workers. The wind industry grew by 2.9% and added 3,347 new jobs, reaching a total of 120,164 workers. Additionally, the transmission, distribution, and storage industry grew by 1.6% and added 21,460 jobs, reaching a total of 1.3 million workers. In the transmission, distribution, and storage industry, traditional transmission and distribution added the most jobs at 13,088 and grew 1.4%.
The benefits from job creation are clear, but what about tax benefits? According to ACP, the clean power projects contracted by corporate buyers provide an estimated $143 million in state and local taxes and $147 million in land lease payments annually. This state and local tax income often funds community centers and services, schools, and city maintenance, and the land lease payments help farmers and landowners secure a stable source of income for years to come.
What's Next: The Future of Clean Energy
The future of clean energy looks bright as corporations continue investing in renewable energy. These investments will help drive further jobs and economic development growth in communities that can really use them. Significant progress has been made already, but that does not mean that we can stop here. To ensure that the clean energy transition is successful, we must modernize our transmission system and electric grid to meet not only our current needs, but the needs of the future.
Overall, the clean energy sector is booming. The country is making significant progress toward a clean energy future, and corporate and industrial purchasers are playing a vital role in driving that progress. The future looks promising, and it is exciting to see what new clean energy developments and milestones will be achieved in the years ahead.