American Wind Week: How Wind is Building the Future
Holly Fritz,

Communications/Policy Associate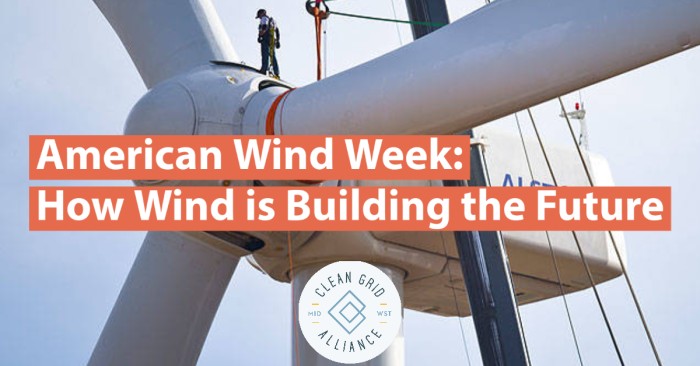 Holly Fritz,

Communications/Policy Associate
Every year, the wind industry recognizes American Wind Week – a celebration of the benefits and milestones of a reliable energy source that reduces carbon and fosters economic development. Providing power for over seven percent of the nation (over 32 million homes), American wind energy is doing more than just powering our homes – it's building our future.
Despite the setbacks of 2020, wind energy is still powering American homes across the country. This wouldn't be possible without the nation's wind energy workers, who have been working hard every day to deliver reliable electricity to homes and businesses. In return, the wind industry continues to support families across the country with stable, well-paid jobs, as well as clean, low-cost energy. During the COVID-19 pandemic, the U.S government deemed U.S. wind workers as essential infrastructure workers. This kept new wind energy projects on track to continue construction.
The U.S. wind industry supports more than 120,000 jobs across all 50 states. According to the U.S. Bureau of Labor Statistics, wind turbine technician is the second-fastest-growing job in the country, and holds an annual salary of $52,910. Wind is also one of the few industries that creates new, high-quality manufacturing jobs. Over 26,000 people have manufacturing jobs in more than 530 facilities producing wind turbine components. Many wind industry jobs go to our nation's veterans, providing opportunities for people after they leave active duty. In fact, the wind industry hires veterans at a rate 61 percent above the national average.
Rural communities are reaping the benefits of companies investing in wind energy, including jobs, additional tax revenue and new sources of income. Wind power delivered over $1.6 billion in state and local tax payments to communities and landowner lease payments to farmers and ranchers in the last year. That's a steady income that can be counted on to keep the farm in the family, and a chance for counties to improve infrastructure, schools and emergency services.
The demand for clean energy and wind power is growing across the country. According to a July 2020 consumer survey by The Harris Poll, 86 percent of Americans think the U.S. should put more emphasis on using clean, renewable wind energy. States and corporations are also setting ambitious clean energy goals. Currently, 63 percent of Fortune 500 corporations, such as Google, Facebook and Microsoft, have set goals of powering of their offices, factories, data centers or stores with wind and other renewable resources. Many of these company goals involve moving from fossil fuels to 100 percent renewable energy power. As of 2020, corporate buyers have contracted nearly 17,000 MW of wind. That's the equivalent of powering over 5 million homes.
Wind energy is a great investment that also benefits the planet. To date, wind power saves 198 billion tons of carbon emissions, including 42 million cars' worth of carbon emissions every year. It also lowers water consumption. Wind energy has already saved 103 billion gallons of water.
Wind energy is helping communities grow across America by creating new opportunities for a prosperous career, all while cleaning up the planet. Despite a national pandemic, wind energy is poised to power another 15 million homes at the end of 2020 with 44 GW in the pipeline. That means more jobs, revenue and investment. Wind energy is building a cleaner future – and that's just smart.