Minnesota Wind Energy Facts

Minnesota Wind Energy Facts
Minnesota is a leader in the wind energy industry. Clean Grid Alliance is an industry leader for wind energy in Minnesota - and we are addressing many key issues to advance renewable energy in the Midwest. You can find a map of every wind project in Minnesota at our Project Map.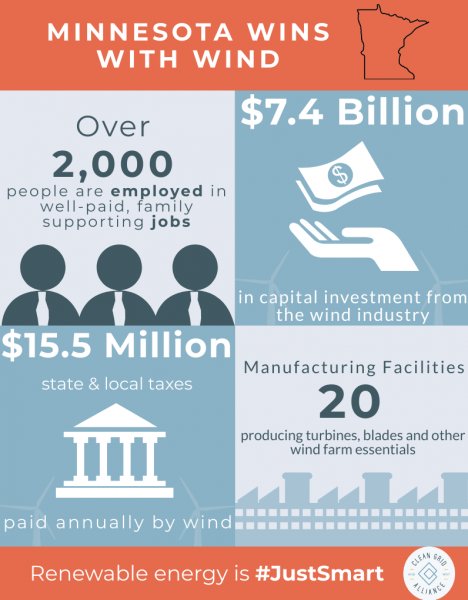 Wind energy in Minnesota
Total Wind Energy in State: 3,843 Megawatts (MW)
State Rank for Amount of Wind: 7th
Wind Projects Online: 101 (50 of which are projects above 10 MW)
Wind Energy Under Construction: 650 MW
Wind Energy in Advanced Development but not yet under construction: 791 MW
Wind Energy Jobs in Minnesota
Wind energy provided over 3,000 jobs either directly or indirectly in 2019. Wind energy jobs range from operations and maintenance, construction, manufacturing, to a multitude of professional jobs.
Wind energy has invested $7.4 billion in Minnesota to date through capital investments.
There are currently 20 active manufacturing wind facilities in Minnesota. Nationwide the U.S. has over 500 manufacturing facilities producing products that range from blade, tower, and turbine nacelle assembly facilities to raw component suppliers, including fiberglass and steel.
You can read more about Minnesota's growing renewable energy sector on our blog—tens of thousands may be added in the coming decades!
Local Financial Benefits of Wind Energy in Minnesota
Landowners that agree to lease part of their land for a wind project are provided a new source of income from the wind project owner. That's especially good news for farmers, who have found wind energy to be their new cash crop which helps to keep the farm in the family. In 2017, rural Minnesota landowners received over $10 million in land lease payments from wind energy.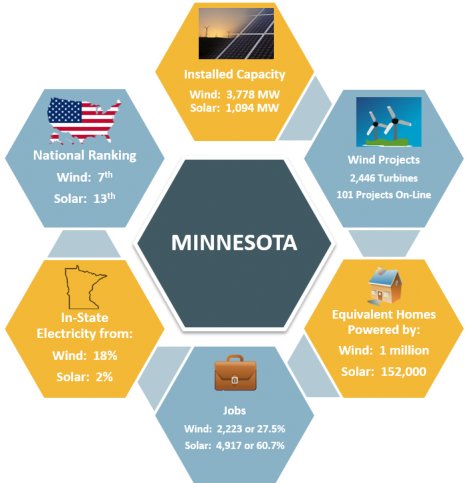 Wind projects also contribute a new source of tax revenue for the counties and townships that host them. Counties get to choose how to spend this money, and it is often used to improve local roads and bridges, to fund local emergency services and schools, and even to reduce property taxes for citizens. That way everyone benefits from a local wind project - not just those who have a turbine on their property. For example, Jackson County has received an average of $1.6 million a year from wind projects since 2012. In 2018, wind energy provided over $12.7 million to rural Minnesota counties through this wind energy production tax. To date, wind energy has paid over $94.4 million to rural communities since 2004.
Wind Energy's Share of Minnesota's Electricity GENERATION
How much electricity in Minnesota is made from wind energy?
In 2018, wind energy provided 17.9% of Minnesota's in-state electricity generation. That's the equivalent of powering 1,091,000 homes!
Minnesota ranks 7th in the nation for its share of in-state electricity generation from wind power.
Environmental Benefits of Minnesota's Wind Energy
Minnesota saved 3.9 billion gallons in 2018 alone thanks to wind energy. That's because generating electricity from wind turbines doesn't require any water, unlike other methods of generating electricity. That's the equivalent of 30 billion water bottles!
Wind energy in Minnesota also avoided 7.8 million metric tons of CO2 emissions in 2018, which is the equivalent of taking 1.7 million cars off the road.
Clean energy is making Minnesota's air and water cleaner. Electricity generation is the largest source of Green House Gas (GHG) emissions, accounting for 29 percent of the state's overall GHGs. Wind energy, and other clean energy generators, have helped to reduce these emissions by 17 percent from 2005 to 2014 - all while keeping Minnesota's electric bills 14 percent below the national average.
What Minnesota'S Electric Utilities Are Saying About Wind Energy
Two of Minnesota's largest electric utilities are leading the way on adding wind energy.
Xcel Energy powers much of the metro area and is investing heavily in affordable wind energy by becoming 85% carbon free and 60% renewable by 2030. Xcel plans to own more than 10,000 MW of wind energy by the end of 2021.
"Xcel Energy regards wind as a hedge against potentially volatile [natural] gas prices", Xcel Energy CEO Ben Fowke has said. "And even with today's low natural gas prices, we are able to procure or build wind that is equal to or below what we could buy a 10 to 20-year strip of natural gas for." Fowke has also stated "[Wind] beats gas, even at today's prices. I like to say we backed up the truck because the fuel of tomorrow was on sale today."
Great River Energy (GRE) is the second-largest electricity provider in Minnesota and powers many of the rural electric co-ops in Minnesota and Wisconsin. In May 2018, GRE announced a plan to source 50% of its power from renewables by 2030.
"Renewable energy, particularly wind, is Great River Energy's lowest-cost option for new generation resources," stated GRE in a recent press release. "The goal does not change [our] mandate to provide affordable and reliable energy … [and] average wholesale rates will remain flat in 2019 with projected increases below the rate of inflation for the next decade" GRE's CEO David Saggau also stated that "wind is becoming the new baseload."
Minnesota Fact Sheets
Be sure to check out our Minnesota Fact Sheets, including topics like:
Want to learn more about how renewable energy is benefitting Minnesota? Sign up for our Renewable Champions Newsletter! Once a month, we'll send you the latest news, resources, and actions you can take to champion renewable energy.
Other Minnesota Wind Energy Resources